Previously in Part III…
So let me cut to the chase: my 2019 resolution of writing a review of every book I read was very difficult for me to keep up with. Out of the 95 books I read this year, I formally reviewed 39 of them. So… yikes.

Since I have a day off, and I have too much pride to call it quits entirely, I'll be finishing up the last 50-something reviews I have in two final installments of RFBR. This time, this reviews will be even quicker because I'm not completely masochistic.

If you'd like to get a little taste of the other books I've read this past crazy year of 2019, then read on. Settle in with a snack of some kind and get cozy because this is going to be a long post
Welcome to the fourth and final 2019 installment of Rapid Fire Book Reviews! Thank you for joining me.
---
Bloodborne: The Death of Sleep by Ales Kot
This comic is very heavy on the visuals which are beautifully drawn and colored. Like Bloodborne the game, the plot is nearly nonexistent so your enjoyment may depend on how much meaning you can glean from the bread crumbs scattered across the pages. I for one, really liked the way the "story" is presented and I'll be trying to get my hands on the next few volumes.
4/5 stars
The Cheerleaders by Kara Thomas
I listened to this audiobook one day while I was home with a cold playing Breath of the Wild. It was engaging enough to keep my attention but not so complicated that I couldn't also play the game at the same time. The story fell off for me around the 75% mark but that's my typical experience with most YA mystery thrillers. They're just kind of predictable. Overall, I ended up liking it more than I expected to.
3/5 stars
Snow, Glass, Apples by Neil Gaiman
This is a really dark, haunted retelling of Snow White and I loved it. Julie Dillon's illustrations pop off the page in vibrant color while still keeping a sharp edginess to them. This story is 18+ for anyone concerned– there are some explicit frames. This is probably one of my favorite fairy tale retellings!
4.5/5 stars
Monstress vol. 1: Awakening by Marjorie Liu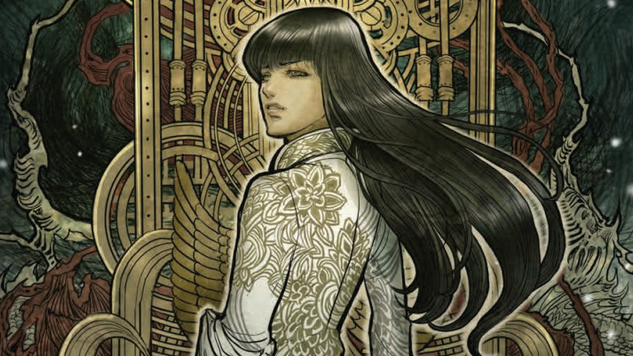 Excuse me, but why did no one tell me about this series? A gritty matriarchal society full of monsters, magic, and Old Gods set in a 1900's steampunk, Asian-inspired setting? Cosmic horror? Disabled characters? People of color? LGBTQ+ rep?
Every page of this volume is breathtaking. I want them all framed and put on my wall. If you can get through the very dense story unfolding here, Monstress will take you on a ride you won't soon forget.
A 2020 resolution of mine is to get caught up on the rest of it!!
5/5 stars
The Monster of Elendhaven by Jennifer Geisbrecht
This was one of my most anticipated releases of 2019, and it came out on my birthday! The beginning really had me too. Elendhaven has the oily strangeness of Lovecraft's Innsmouth and I loved that. The prose has a distinct voice that makes me interested in what else Geisbrecht will be offering us in the future. That being said, the back half of the book didn't go anywhere and I found myself asking "That's it…?" once I reached the final page.
3.5/5 stars
Stolen Tongues by Felix Blackwell
It always fills me with a kind of giddiness when a Reddit Creepypasta grows infamous enough to become an actual book. Dathan Auerbach's Penpal is probably the best example of this and it remains one of the scariest books I've read.
Stolen Tongues has some really frightening moments, made even more unsettling by the fact that the author uses real names and places and tells the story as if it's real. The ending lost me a bit, as so many Creepypastas do when they just get too big to be properly contained. It lost the believability that made it so good.  Still, it was a fun ride and I'd like to see what else Blackwell might come up with.
3/5 stars
Serpent & Dove by Shelby Mahurin
I'm going to lose some of you here. I did not care for this book, and no one feels more cheated about that than me. I try so very hard to not let the hype get to me when books like this one come out. But I guess I wasn't able to properly check my expectations at the door. I was really into the first few chapters where the magic system and the witches were first explored. But then I got really bored, way too fast. I was not sold on this enemies-to-lovers development even a little bit. And it's one of my favorite tropes! Lou is  annoying as all hell and so is Reid. I nearly DNFed the book on more than one occasion and I wish I had.
2/5 stars (though it feels more like a 1.5)
The Fisherman by John Langan
Want to feel like you're having a fever dream without having to go anywhere or do anything? Give this book a try. It's a trip, and I loved it. I love that there are authors out here doing Lovecraftian horror in a way that H.P. himself would have to applaud.
There's a scene in this book that gave me full body chills and had me scared to turn the lights off to go to bed. I had to stay up watching funny videos on Youtube until 2AM to make myself feel better.
4/5 stars
The Way of the House Husband vol. 1 by Oono Kousuke
A Yakuza boss gives up the gang life to become a house husband. What ensues are hilarious episodes of this huge scary dude rushing to sales at the grocery store, attending cooking classes, and playing with the Roomba. I can't wait for the second volume to come out in January.
5/5 stars
Natalie Tan's Book of Luck and Fortune by Roselle Lim
A cute and cozy story about a girl finding her destiny and following her dreams upon the death of her estranged mother. Lim tackles heavy topics while still keeping the overall tone light and hopeful. I read this while going through a low point with my mental health and it felt like a comforting bowl of soup to help me heal and get back up on my feet.
4/5 stars
If I Could Reach You vol.1 by tMnR
A young girl must come to terms with her romantic feelings for her brother's wife.  This is a very moody story where not a whole lot happens. You mostly just watch the main character struggle with her unrequited love. It was a bit slow but I still enjoyed it and plan to continue with the series at some point.
3/5 stars
Queen of Nothing by Holly Black
A nearly perfect ending to one of my new favorite trilogies. Serpent & Dove should be taking notes because THIS is how you nail the enemies-to-lovers trope.
5/5 stars
Warrior of the Wild by Tricia Levenseller
If Warrior of the Wild and Sky in the Deep could switch settings and romantic subplots, you'd have two (nearly) 5 star books. They are very similar in a lot of ways, but there were also things I liked better in each of them. I guess if I'm picking one over the other, Sky in the Deep is overall superior. That being said, Warrior had some really good character development and romance.
3.5/5 stars
Strange Planet by Nathan Pyle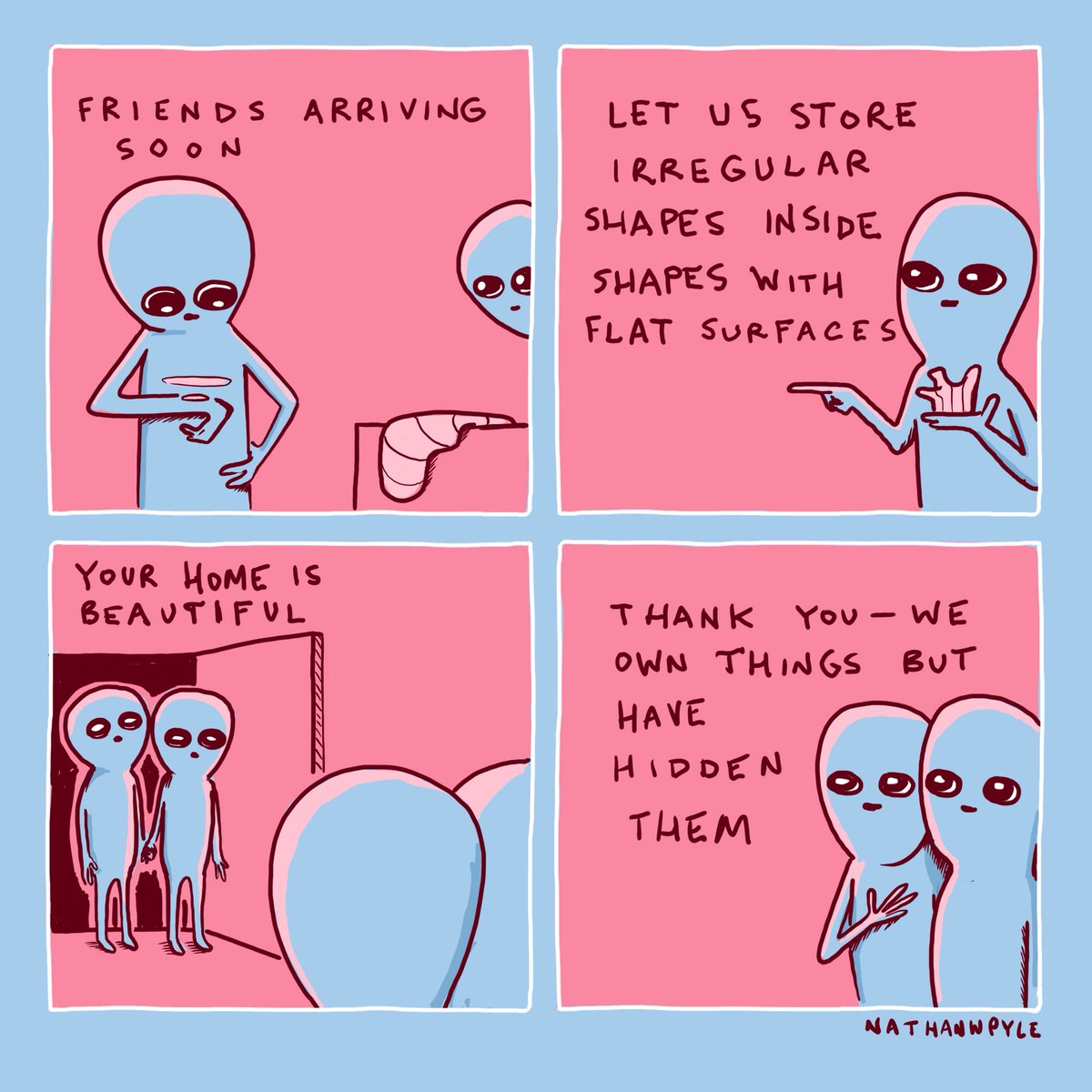 I've been sharing these comics to my Facebook page since I first came across Pyle's work. There's not a whole lot to say here; the book is just a full-color compilation of his best comic strips. It's fun to read, nice and simple.
4/5 stars
The Merciful Crow by Margaret Owen
I read so many scathing reviews of this book that I was sure I wasn't going to like it. Low and behold, it's one of my favorite books I read this year. The audiobook was phenomenal and I felt an immediate connection to the protagonist, Fie. The world-building is rich and wholly original. I've loved the concept of tooth magic since Daughter of Smoke and Bone and Owen's take on it is just as interesting. This was another extremely well done example of the enemies-to-lovers trope and I'm waiting with baited breath for the next book.
4.5/5 stars
Teen Titans: Raven by Kami Garcia
I'm not a fan of superhero stories but I did like the original Teen Titans cartoon as a kid, and of course, Raven was my favorite character. Gabriel Picolo's art brings her to life in a way I didn't realize I wanted this badly. A really enjoyable, quick read. I'll probably pick up Beast Boy when it comes out too.
4/5 stars
Claymore vol. 17: The Claws of Memory by Norihiro Yagi
The Awakened Beings in this series just get cooler and cooler. I don't even mind that the story is now just a chain of monsters getting bigger and stronger than the one previously formed. Somehow Yagi keeps it interesting.
4/5 stars
Claymore vol. 18: The Ashes of Lautrec by Norihiro Yagi
There are actually grave consequences for the things that unfold in this story and I really appreciate that. One thing I can't stand in other shounen/seinen series is that nine times out of ten, the main character is triumphant without any lingering traumas to speak of. This really isn't the case with Claymore. The characters here are molded and scarred by their experiences.
4/5 stars
Claymore vol. 19: Phantoms in the Heart by Norihiro Yagi
It's now just starting to get kind of silly. Here we have the equivalent of Yu-Gi-Oh! monsters with boobs. I'm still in love with the series of course, but that really made me laugh and took me out of the story for a second.
The final scene is brutal though, and it sucked me right back in.
3/5 stars
Claymore vol. 20: Remains of the Dead Claws by Norihiro Yagi
This is the first volume since #3 to make me cry and I wasn't expecting that at all. I can't go into much detail because I'm trying to avoid spoilers for the series. Just please read Claymore.
4/5 stars
Claymore vol. 21: Corpse of the Witch by Norihiro Yagi
Raki could kind of get it, though? So could Miria, but that's always been the case. I love that she's really become a main character all her own. The newest conflict is one of the most compelling in the series.
4/5 stars
Claymore vol. 22: Claws and Fangs of the Abyss by Norihiro Yagi
The boss fight here was just a little too slow to warrant it being this long. I'm also really not a fan of one of the awakened being designs. Usually they're very cool and interesting but this one is just… ugh.
The ending does pick up and some of the frames look like they came right out of a Junji Ito story.
3/5 stars
Claymore vol. 23: Mark of the Warrior by Norihiro Yagi
We finally get to see a reunion that we've been waiting twenty whole volumes to see, and it's very emotional. We also come to understand a mysterious scene from volume 3. This volume is more NSFW than previous ones in terms of nudity so be warned if that's something you're not into.
4/5 stars
Claymore vol. 24: Army of the Underworld by Norihiro Yagi
I'd like to nominate this cover as the most breathtaking one in the series. I don't have much else to say about this one as it's mostly a continuation of a boss fight from the previous volume.
4/5 stars
Claymore vol. 25: Sword of the Dark Deep by Norihiro Yagi
Miata turns into a freaking Bloodborne boss and I love her for it. Someone makes a sacrifice that I did not anticipate and it made me ugly cry.
4/5 stars
Claymore vol. 26: A Blade From Far Away by Norihiro Yagi
This is the penultimate volume of the series and everything is ramped up to the highest level of tension. Every frame is breathtaking. It took me twice as long to read this installment because I was savoring every moment of it.
5/5 stars
Claymore vol. 27: Silver-Eyed Warriors by Norihiro Yagi
I started reading and watching Claymore when I was twelve (ten years ago) and so a part of me always felt like the story would go on forever. But like all things, it must come to an end. Even though that breaks my heart, I couldn't have asked for a better ending to a series that has been with me all this time. Clare, Teresa, and Miria remain some of my favorite characters of all time and Priscilla is one of the most compelling villains I've ever loved to hate.
If you like manga, and/or fantasty, and/or badass female characters, I implore you to give Claymore a try and then message me about it so we can cry together.
The Armored Saint by Myke Cole
Maybe not the coziest book to read on Christmas day. This book is absolutely brutal, right from the start. A fanatically religious sect carries out the will of The Emperor by eradicating any and all wizards. No amount of innocent lives will keep them at bay, either. Heloise is a young woman trying to figure herself out in a world that punishes all who stray from the norm. This story reminds me a lot of Joan of Arc, in fact, Cole mentions her in his dedication. I'm currently waiting for the sequel to be delivered to my house.
4/5 stars
Delicious in Dungeon vol. 1 by Ryoko Kui
A warrior, a caster, and a rogue walk into a dungeon… and they're hungry but also severely lacking in provisions. So, naturally, they start to devise ways to eat the monsters in the dungeon. This was a lot funnier than I was expecting and everyone in the main cast is incredibly endearing.
---
And finally, we're done!! I'm hoping that 2020 will see me writing more consistent reviews so you'll have more than these tiny snippets to look forward to.
Again, if you've made it this far, I LOVE YOU!!! Thank you for seeing me through to the end!
My next few posts will include: Top 10 best and worst books of 2019, books I DNFed this year, 2020 bookish resolutions, and the books at the top of my 2020 TBR. So stay tuned if any of those sound interesting to you!
I hope the last few days of 2019 treat you well.
.✫*゚・゚。.☆.*。・゚✫*.
-Liv